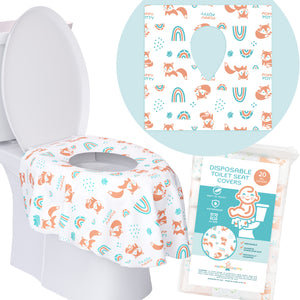 Logie & Gray - The Poppy Potty
Toilet Seat Covers to Keep Little Fingers and Bottoms Away From Germs
Sale price Price $15.99 Regular price $17.99 Unit price / per
Are you potty training? Always on the go with your kiddos? Visiting National Parks? Poppy Potty's Disposable Toilet Seat Covers are made to help you tackle icky public toilets without worrying about you or your child touching anything you can see.... or can't see on that toilet!
Perfect for the toddler on the go, our Toilet Seat Covers for Kids can be used at home, at the park, and even camping to make sure you toddlers hands, bottom and legs do you not touch any part of the toilet. We know that most young children will stabilize themselves by holding the toilet seat. We don't really want our kids touching public toilet seats so you can rest easy knowing your are protecting your little one on all your adventures.
🚽Thoughts of your child TOUCHING A PUBLIC TOILET FREAKING YOU OUT? Especially if they hold onto the toilet seat for support? That's why we made toilet covers disposable kids to provide FULL PROTECTION FOR THOSE LITTLE TODDLER HANDS AND BOTTOMS on any toilet seat.

🦊 Getting stressed about GOING ON A ROAD TRIP, flight or even just to the park with a potty training toddler? With our gender neutral CUTE FOX AND RAINBOW DESIGN girls, boys and even adults will be happy to use our potty shields. We made the pattern dual direction so kids can spot their fox friends while sitting too, to MAKE YOUR CHILD MORE COMFORTABLE when using any scary looking public toilet.

✈️TAKE IT EVERYWHERE! Our disposable toilet seat covers are great for travel, road trips, public toilets, camping, potty training, restaurants, and of course because of their EXTRA LARGE SIZE they are great for us parents too! Individual disposable toilet seat covers for kids are SMALL ENOUGH TO SLIP INTO YOUR BACK POCKET, diaper bag, or backpack so you'll never be caught out. We even include a small carry pouch so the potty covers are easy to find in your bag.

🧒 Got wriggly kids? We've also added ADHESIVE STRIPS to the underside of our toddler toilet seat cover to help attach them to the toilet seat for those wriggling littles. Our kids toilet seat covers can be used under a seat reducer or potty seat for your own peace of mind, and your CHILD'S COMFORT. And your foldable training potty seat never has to touch that nasty toilet seat.

🙌 Concerned about sensitive tushies? We use VERY SOFT MATERIAL WITH A WATERPROOF BACKING so that your child, and you, will not have any irritation from our disposable toilet seat covers for travel AND with the waterproof backing it will PROTECT YOU FROM ANYTHING ON THE TOILET SEAT getting through to that cute tushie. When you're done, just wrap up and dispose into the trash can, and CONTINUE ON WITH YOUR ADVENTURES!